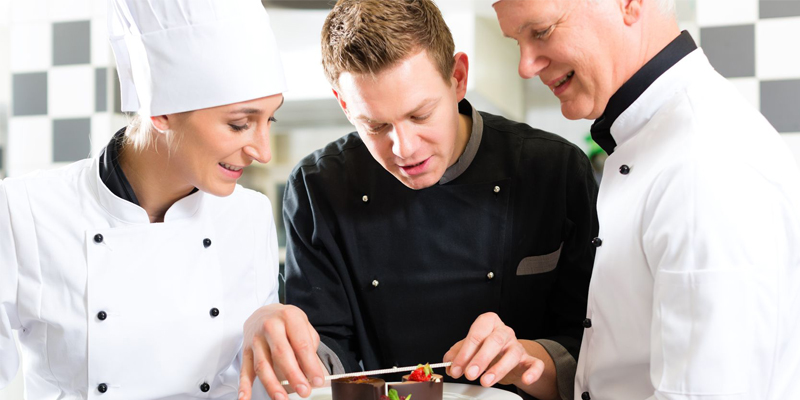 2 semesters – 3 periods
Grades Eligible: 11, 12, Adult

This program of study is the basic principles of the foodservice industry. Food safety, sanitation, personal safety, food handling skills, knife skills, nutrition, customer service and cooking techniques highlight this program. Students will learn what the nation's largest employer expects them to know and the wide range of opportunities available in the foodservice industry. Hands-on experience is an integral part of the program featuring working lab sessions on a large variety of kitchen equipment. Students will learn tasks involved in front-of-the-house operations, back-of-the-house operations and receive their food handler's card from the local regulatory agency.
2 semesters – 3 periods
Grades Eligible: 12, Adult
Prerequisites: Culinary Arts I and instructor approval

The second-year program provides the student with additional training in the specific roles of the food service industry. History and depth of knowledge of the industry allow the student to understand the concept of proven and varied cooking techniques used worldwide. Students will learn about food costing, menu planning, and profitability. Students meeting the qualification and with the recommendation of the instructor will have the opportunity to compete in culinary competitions on the state and national level. Students will take lead roles in the operation of our campus restaurant and further their experience in real-world foodservice operations. Second-year students will have the opportunity to become ServSafe Certified and earn certification for the National Restaurant Association ProStart Program.
High School Students:
Contact your school's guidance counselor.

Prerequisites may apply.
August-May (Following the Cape Girardeau Public Schools Calendar)

Monday-Friday
The morning block schedule is from 8:25 a.m. to 10:50 a.m.
The afternoon block schedule is from 12:05 p.m. to 2:45 p.m.

For more information, call 573.334.0826 and speak to one of our advisors.