Respiratory Therapists are in high demand for positions in hospitals, sleep labs, home care agencies, medical sales, and skilled nursing facilities. This healthcare specialty involves the evaluation and treatment of patients with heart and lung diseases. RT duties include placing devices on patients to deliver oxygen for them to breathe, administering medications to relieve respiratory distress, and attaching and monitoring complex ventilators to assist or support breathing.
The Respiratory Therapy program is offered at the Cape Girardeau Career & Technology Center (Cape CTC) through a partnership with Southeast Missouri State University. Cape CTC is a non-degree granting institution therefore the bachelor degree is conferred through Southeast Missouri State University once all degree requirements are met. The core RT courses, taught by CTC faculty, are 21 months beginning in August each year. The didactic and clinical phases are integrated. Core RT classes meet from 8:00 to 4:00 daily with clinical rotations including 8-12 hour shifts (day, evening or night) at local healthcare facilities.
In addition to the core RT courses, students must also complete all general education courses prior to starting the program. Upon successful completion of all degree requirements, students are "registry eligible" allowing them to test for credentialing as a Certified Respiratory Therapist (CRT) or Registered Respiratory Therapist (RRT).

To apply for the RT program:
Complete an application with the $20 processing fee

Pre-entrance assessment (TEAS) - No minimum score required

Complete the prerequisite courses with a C or higher

Provide three work references

Schedule interview with RT faculty

Complete required shadowing.

Interest in RT paper (1-2 pages)
FINAL ACCEPTANCE is contingent upon a criminal background check.
CLICK HERE TO APPLY

General Education Requirements:

Southeast Missouri State University Respiratory Therapy Degree Map
Instructors:
Pete Darnell; Program Director
Kyle Kern; Director Clinical Education

For more information call 573.334.0826 and speak to one of our SEMO advisors.

CoARC – Commission on Accreditation for Respiratory Care, www.coarc.com

Cape CTC CoARC respiratory program number 200497.

"CoARC accredits respiratory therapy education programs in the United States.

To achieve this end, it utilizes an 'outcomes based' process. Programmatic outcomes are performance indicators that reflect the extent to which the educational goals of the program are achieved and by which program effectiveness is documented."

The Cape Girardeau Career Technology Center Respiratory Program Programmatic outcome data can be found on the following link, https://coarc.com/students/programmatic-outcomes-data/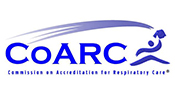 CoARC – Commission on Accreditation for Respiratory Care, www.coarc.com

Cape CTC CoARC respiratory program number 200497.

"CoARC accredits respiratory therapy education
programs in the United States.

To achieve this end, it utilizes an 'outcomes based' process. Programmatic outcomes are performance indicators that reflect the extent to which the educational goals of the program are achieved and by which program effectiveness is documented."