Physical Therapist Assistant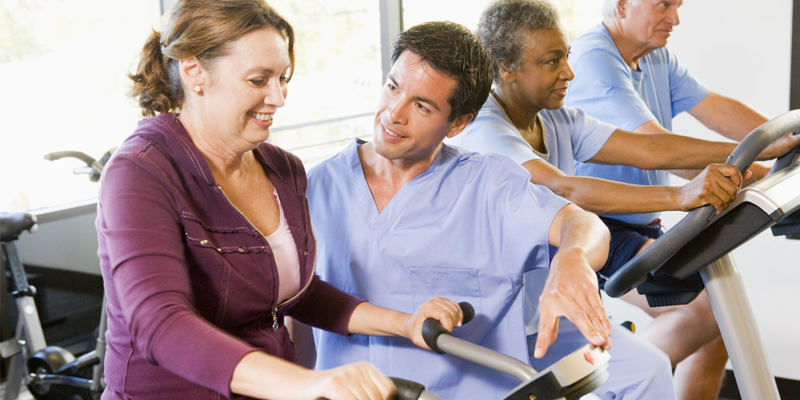 Physical Therapist Assistants (PTAs) treat patients under the direction of a Physical Therapist. PTAs use therapeutic modalities such as exercise, joint and soft tissue mobilization, endurance training, neuromuscular re-education, and therapeutic application of heat, cold, ultrasound, and electrical stimulation to assist patients to move and perform functional activities with the greatest amount of independence possible. Work as a PTA might include teaching patients how to use orthotics, crutches, canes, walkers, or other devices to increase independence. Physical Therapist Assistants are employed by hospitals, schools, skilled nursing facilities, outpatient clinics, and home care agencies.
The Physical Therapist Assistant program is offered at the Cape Girardeau Career & Technology Center through a contractual agreement (memorandum of understanding) with Mineral Area College and results in an Associate of Applied Science Degree. Cape CTC is a non-degree-granting institution therefore, the Associate of Applied Science degree is conferred through MAC once all degree requirements are met. The core PTA courses, taught by CTC faculty, are 12 months beginning in September each year. Core classes meet from 8:00 to 4:00 daily at Cape CTC with clinical rotations including 8-10 hour shifts at healthcare facilities.
In addition to the core PTA courses, students must also complete a total of 24 – 26 credit hours of general education courses which may be taken online or at any MAC location. Upon successful completion of all degree requirements from the accredited PTA program, students may sit for the national board exam and pursue licensure in the state of their choosing.
To apply for the PTA program
Complete an application with the $20 processing fee

Achieve a minimum score of 60% on the pre-entrance test (TEAS)

Complete the pre-requisite courses

Submit official educational transcripts

Provide three work references

Schedule an interview with a selection committee
The Admission Committee reviews the applicant's folder using a standard scoring guide. Higher pre-entrance test scores and positive work references increase the applicant's probability of being selected for the program. FINAL ACCEPTANCE is contingent upon a criminal background check.
Pre-requisite general education courses
A grade of C or above is required.

Medical Terminology/Intro to Pathology

General Biology with a lab

English Composition

Intermediate Algebra *Mineral Area College's MAT 1185 or equivalent also accepted
Additional general education course requirements
Oral Communications course

Human Development/Psychology course

History/Political Science course

Computer Literacy course
Information on specific Mineral Area College courses or acceptable substitutions is available upon request.

Students are strongly encouraged to complete ALL general education courses before beginning the 12-month PTA core curriculum.